Elements of an Airbnb Listing

In the past, travelers were limited in their options for accommodation: Stay in a hotel, hostel or traditional bed & breakfast. Whilst the concept of providing four-walls-and-a-roof to travelers is far from unique to Airbnb, each and every place listed on Airbnb is unique to the flavors of the host, their home and the local neighborhood.
So what does this actually look like? It may be comic book fans that aren't shy to display their collection of Superman figurines in every corner of their home. Maybe it's a beach-side bungalow that embraces its surroundings through color, decor and furnishings. Or urban retreats that adapt to their hustle-and-bustle metropolis surroundings.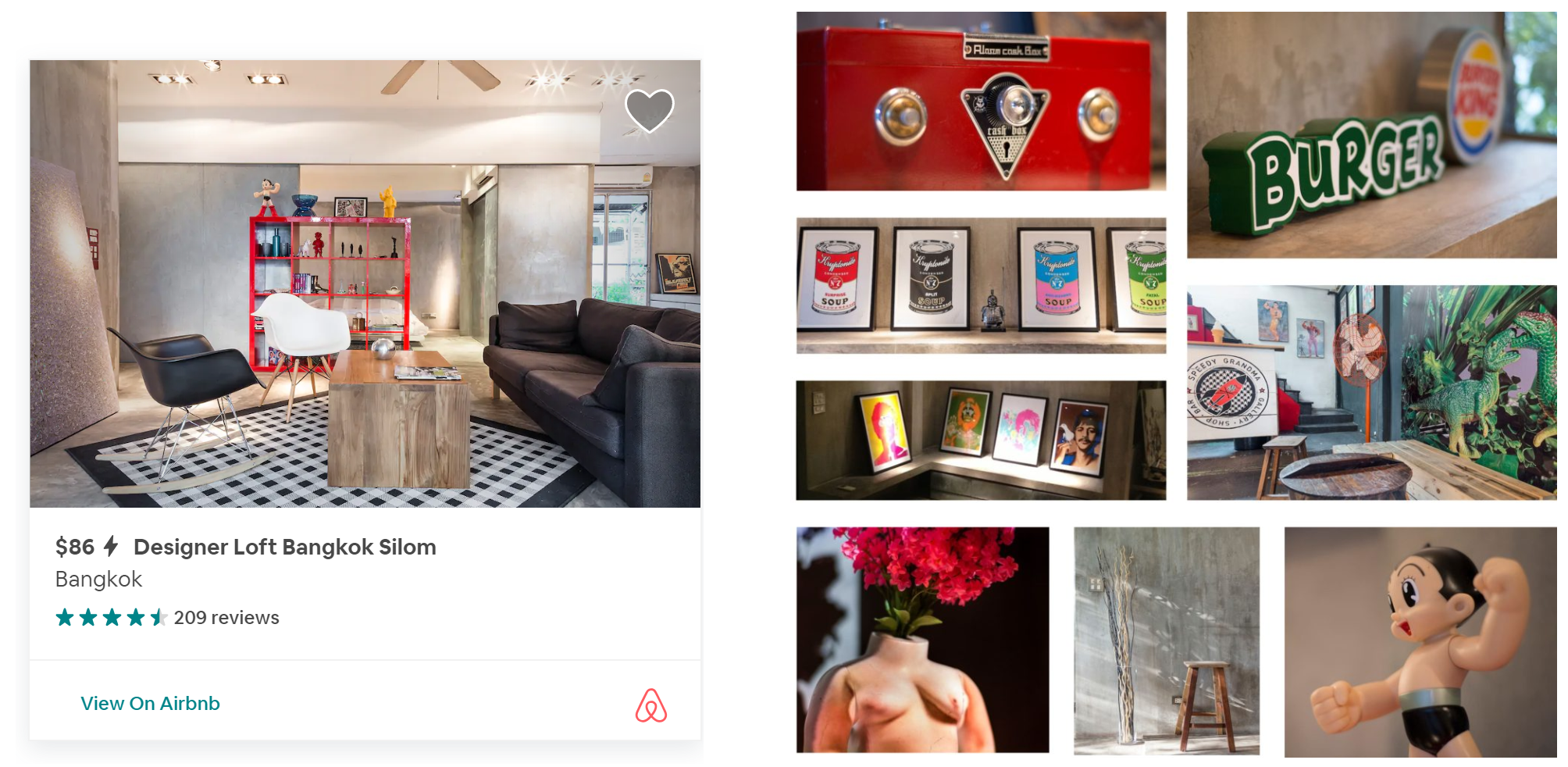 Guests frequently select their Airbnb in the hope of being exposed to unique experiences and local flavors. Many are looking beyond just price in their selection process.
79% of guests choose Airbnb because they want to live like a local.
Your listing needs to be crystal clear in communicating…
What kind of place you have
What kind of experience you will provide to guests
Why you love where you live
Why guests will appreciate choosing your place over other alternatives
As the sole mechanism for providing prospective guests with an insight into what it might be like to stay at your place (and all the reasons your place is better than others they may also be considering), your listing represents the vital link between simply being listed and actually getting booked.
Prospective guests are yet to see your home and have not personally met you – they have only what they read on your listing to go by in deciding where they want to stay.
There are different elements of an Airbnb listing – everything from the listing name, through to a summary of the space and the local neighborhood.
Getting each of these elements right is critical to slowly edging prospective guests closer and closer towards the necessary comfort they need to feel before booking your place. The ability to lose them at any point on this journey cannot be understated enough.
There's a lot to get right in building an effective Airbnb listing that generates reservation requests. This represents both an opportunity and a challenge: Get it right, and you set yourself up for long-term success on Airbnb. Get it wrong, and you risk becoming another anonymous listing amidst a sea of competition. Make sure you seize the opportunity.
To truly give your Airbnb listing depth and color, you should complete each of the sections available to you. You have the ability to provide additional details for each of the following sections of your listing:
Listing Name: A high-level summary of what makes your place uniquely great
Listing Summary: A brief overview of the key selling points of your place
The Space: Information about all the different areas and amenities within your place
Guest Access: An overview of the spaces that guests will have access to within your home
Interaction with Guests: Information on how you'll be available to offer help and/or socialize throughout the stay
Other Things to Note: Other details that may impact a guest's stay (for better or worse)
The Neighborhood: Information on what makes your local area great or unique and any key local attractions
Getting Around: Information on public transport, driving and walking options
Listing Name
AIM: To make your listing stand out from other listings in search results, enough to make prospective guests want to click through and take a look at your listing page.
CHARACTER COUNT LIMIT: 50 characters
TIPS & TRICKS:
Don't focus on the things that guests can learn elsewhere (eg. the number of bedrooms or bathrooms)
Highlight your differentiating attributes (for example, is it family-friendly? Close to the city? Free access to gym facilities?)
Remain conscious of your target guests and the type of travelers most likely to be interested in your place. Make sure to tailor your listing name to their particular interests
Poor Example
3 Bedroom, 2 Bathroom Apartment
Best Practice Example
Family-friendly Dream NYC Apartment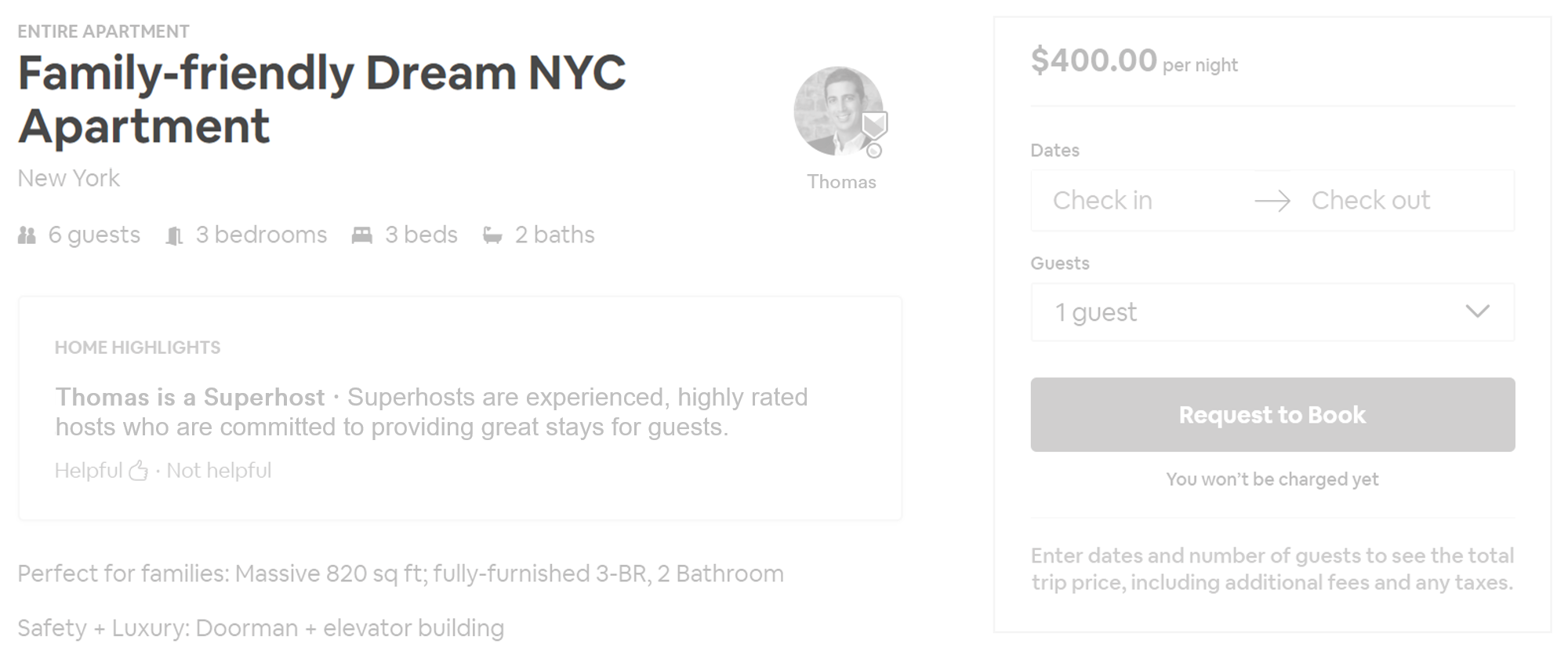 Examples
Here are a few of the titles for top performing Airbnb's from all around the world:
Sunny Studio Close to San Telmo  | Buenos Aires, Argentina
Perfect Escape Sunny Roof EnSuite  | Bangkok, Thailand
Modern Luxury Close to Beach, City and Transport  | Sydney, Australia
Luxury design apt w spacious sunny balcony  | London, UK
Romantic Hideout in Paris  | Paris, France
Lovely Room, EXCELLENT AREA for Access to all NYC  | New York, U.S.
Listing Summary
AIM: The aim of your listing summary is to provide a teaser that whets the appetite of prospective guests enough to make them want to keep reading the rest of your listing page and descriptions.
CHARACTER COUNT LIMIT: 500 characters
TIPS & TRICKS:
Use bullet points
Focus on the top-5 differentiating attributes of your place
Highlight amenities and features most likely to appeal to your target guests
Poor Example
The apartment is a big 3 bedroom 2 bathroom apartment in Gramercy (2 rooms are larger). It is already furnished and there is also a big kitchen. It is kept very clean & we are close to everything you would want. It also has a rooftop and an elevator
Best Practice Example
Massive 820 square feet 3-bedroom, 2-bathroom with lounge
Fully-furnished, light and quiet
Large appliance-stocked kitchen
Minutes walk to trains, bus, shops, food and nightlife
Doorman / elevator building with laundry
Stunning rooftop view
The Space
AIM: To provide assurances to prospective guests that all amenities and features of importance to them will be provided at your place.
TIPS & TRICKS:
Use headings and bullet points
Breakdown the description of your place into its individual rooms and sections of your home
Minimize use of overly-poetic language in preference for clear and simple descriptions
Poor Example
The apartment has 3 bedrooms and 2 bathrooms. 2 of the bedrooms are bigger than the 3rd bedroom. 2 of the bedrooms have a queen-size bed, and 1 of the bedrooms has a king-size bed. 1 of the bedrooms has an ensuite attached to it – very useful! Each o the bathrooms have a toilet, shower and bathtub. The apartment also has air-conditioning and heating.
There's a really big kitchen with pretty much everything you would want in a kitchen, like a microwave, oven and even a dishwasher.
In the building there is also a laundry room in the basement. The building also has a doorman, and an elevator which is neat!
Best Practice Example
THE BUILDING
Brand-new 23-story luxury rental building
24-hour doorman
Magnificent 20-foot artfully-crafted marble lobby
Laundry room with washing machines and dryers
Hallways elegantly carpeted and wallpapered
On-level garbage and recycling chute
APARTMENT AMENITIES
Double-glazed, insulated, sound-dampening windows
Hardwood oak floors
THE BEDROOMS
Room 1: 180 square feet with ensuite bathroom, queen-size bed, television, walk-in closet, dresser, bedside table, desk and couch
Room 2: 180 square feet with king-size bed, walk-in closet, 2 dressers, bedside table and desk
Room 3: 120 square feet with queen-size bed and 2 dressers
Air-conditioning / heating units in each bedroom
    THE KITCHEN
Beautifully appointed, European design appliance-stocked kitchen
Massive 100 square feet space
Microwave, oven and dishwasher
Top-of-the-line GE appliances
Granite floors
THE LOUNGE ROOM
Large 100 square foot space
Surround-sound television and entertainment unit
4-person super-comfy sofa
Air-conditioning / heating unit
THE BATHROOMS
2 superbly-appointed bathrooms, each containing: Toilet, shower with detachable head, bathtub, vanity with basin, extended mirrors and cupboard storage space
THE ROOFTOP
Incredible high-rise view of city

Uninterrupted views of Freedom Tower, Empire State and Chrysler Buildings
Guest Access
AIM: To maximize perceptions of personal space and access to amenities and home features that would be desired by guests
TIPS & TRICKS:
Overtly state all of the areas that guests will have access to
Make mention of things that guests would appreciate having access to (even if they may seem obvious)
Explicitly encourage guests to feel at home and use all amenities they are granted access to within your place
Poor Example
Guest access
The entire apartment is yours. You can also use the laundry room and go on the roof.
Best Practice Example
Guest access
ACCESS TO EVERYTHING – FEEL LIKE IT'S YOUR HOME:
Complete and uninterrupted access to all areas of entire apartment
Access to in-building laundry room (with washing machine and dryer)
Access to rooftop
Interaction With Guests
AIM: To eliminate any apprehensions prospective guests may have around a smooth-sailing Airbnb guest experience and providing comfort that their preferences for personal space and socialization will be respected
TIPS & TRICKS:
Include an introductory statement that recognizes the importance of a problem-free travel experience
Let prospective guests know all the ways you ensure guest concerns are taken care of
State all the ways you're happy to be contacted before, throughout and after the guest's stay
Poor Example
Interaction with guests
I'll meet you at the apartment and give you the keys
Best Practice Example
Interaction with guests
I like to ensure your vacation starts off on the right foot.
I will personally greet you upon arrival at the building. To ensure your every concern is able to be taken care of, I also like to introduce you to the doorman.
Once you've had a chance to dump your bags and grab a drink, I'm always happy to give you a quick walk-through of the local area.
If you're not up to it, I'm equally happy to run you through a list of key attractions and cheat sheets for making the most of your stay.
As a longtime local, I'm well-placed to suggest the best attractions, advise on the best ways of getting around, recommend key attractions or offer suggestions on anything that might pop up during your stay. I'm only ever a phone call away. And feel free to drop me an email anytime – I'm at the computer so often anyways.
And if you're anything like me, you'll forget half your luggage in the mad scramble back to the airport. Don't worry – this has happened 29383492934 times before (especially with kids!) and we always find a way to get your prized possessions back into your hot little hands.
Other Things to Note
AIM: To call out any other details that may impact a guest's stay, for better or for worse.
TIPS & TRICKS:
Explicitly mention any additional amenities or features likely to be of interest
Highlight the importance of having a positive travel experience
Invite the opportunity to open up communication channels for further discussion
Poor Example
Other things to note
The garbage chute can be accessed in the trash room which is at the end of the corridor and to the right.
Best Practice Example
Other things to note
Your enjoyment in our home is our PRIMARY concern.
Here are a few things we think you'll want to know…
WELCOME BASKET: You'll arrive to a welcome basket inclusive of milk, cereals, chips, cheese and crackers, sodas and juice boxes, chocolates, popcorn and other yummy snacks
COFFEE AND TEA: Premium coffee machine with wide selection of flavors, as well as assortment of teas provided free-of-charge
COOKING BASICS: Help yourself to condiments (such as jam, peanut butter, ketchup, mustard, etc.) as well as sugar, salt, olive oil, vinegar and a selection of herbs and spices – all provided complimentary for your stay
GARBAGE AND RECYCLING: There is a garbage chute and recycle room located right next to the apartment
PARKING: There is unmetered all-day street parking in the streets around the apartment. There is also a secure parking garage on-site. Regrettably, the garage fits small to medium-sized cars only
MAINTENANCE: The building has on-site maintenance. Speak to the doorman 24/7 to report any issues for immediate repair
Don't be shy to contact me if you have any questions about the home or local area. I love to help my guests.
Neighborhood Overview
AIM: To let guests know why your neighborhood is better than other alternatives they may also be considering
TIPS & TRICKS:
Use bullet points
Overview your neighbourhood's key selling points and proximity to places of interest, key landmarks, attractions and public transport
In both content and language, overview the type of places that your target guests would be most interested in
Poor Example
The neighborhood
The apartment is in the Gramercy neighborhood. Getting around is pretty easy since the 6 train is very close to the apartment, and Union Square station is not too much further either. There are a ton of great tourist sites that are close by to the apartment, and a lot of great places to go out and eat around the apartment too.
Best Practice Example
The neighborhood
Located in beautiful Gramercy area and a couple of blocks away from trains (4, 5, 6, L, N, Q, R lines) and buses that'll take you anywhere uptown, downtown, crosstown and into Brooklyn
No more than 15 minute walk to Empire State Building, Union Square, Herald Square, Flatiron Building, Madison Square Park and East River
Never more than 30 minutes away from neighborhoods like Greenwich Village, West Village, Chelsea, SoHo, Chinatown, Lower East Side, Times Square, Grand Central Station or any other downtown or midtown spot.
Located in the heart of countless bars, restaurants, shops and central transport hubs
Easy to get to by cab or public transport from JFK, LaGuardia and Newark airports
Getting Around
AIM: To provide assurances to guests that getting around will be simple and uncomplicated
TIPS & TRICKS:
Explain all of the various public transport options (trains, buses, cabs, ferry and driving) that guests have easy access to from your place
Let guests know where the public transport options will take them (as opposed to simply stating just what those public transport options are)
State the proximity and travel time involved in getting to each of the public transport options
Poor Example
Getting around
Getting around is really easy from the apartment. The 6 train is really close
Best Practice Example
Getting around
TRAINS: 5min walk to 6 line (taking you everywhere on the East side of Manhattan) and 10min walk to L, 4, 5, N, Q, R lines (taking you uptown, downtown, crosstown and into Brooklyn)
BUSES: 5min walk to multiple buses that go up and down 1st, 2nd and 3rd Avenue as well as crosstown (at 23rd Street)
CABS: Readily available cabs constantly driving past building and surrounding streets
FERRY: 15min walk to East River Ferry at 35th Street
PARKING: Parking lot located one block away